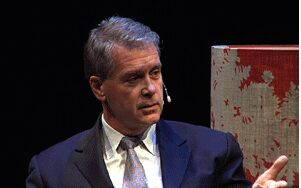 25 year CIA veteran Glenn Carle is in conversation here with David Leser at the Sydney Writers' Festival.
Carle spent 20 of those CIA years working undercover and from 1997 through to 2001 his focus was trying to detain or assassinate Osama bin Laden. In his autobiography, The Interrogator (an account heavily redacted by his employers!), he talks about the ethical and moral issues he struggled with in working through what constituted his real duty to his country. His book has been described as one of the best and most truthful accounts of life within the CIA.
Interestingly, he was a CIA operative who publically refused to condone the use of torture against Al Qaeda operatives.